Posts By Month:

---
Blog | Choosing a Pool Builder. What you Need to Know!
---
In this article I have put together a few things you may want to think about as you search for a pool builder. The information contained should help you get a more accurate comparison of different builders. So lets look at some of the aspects of pool "bids".
First are you actually looking at similar pools? Many people ask for a certain size pool, lets say a 17' wide x 34' long pool that is 3.5' to 6' deep. The actual numbers that builders use are not generally length and width but different numbers. They are the linear feet around the pool (perimeter) and the surface area (swimming area) of the pool. In a pool the size we are talking about you would be very surprised to find that there is a wide range in linear feet and surface area. Look at the example here, these two pools are both considered 17' x 34'. Which one is bigger?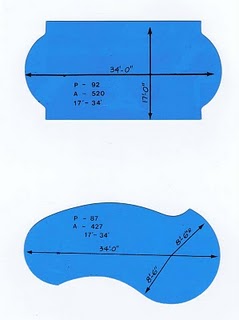 The top one is. It is 92 l.f. x 520 s.a. vs. the bottom one which is 87 l.f. x 427 s.a. So what can happen is two different pools listed as the same size may very well not be. This can be a several thousand dollar difference.
Another aspect is what type of equipment is going to be used to operate the pool? The difference in costs of filters from a Sand to a D.E. can be over $500.00. A full rated, energy efficient pump vs. a up-rated standard efficiency pump can be up to another $300.00. If you have 2, 3 or 4 pumps like many of our pools do then that can actually be over a $1,200.00 difference. There is also a wide range in costs of heaters. You can get two heaters that are both 400,000 BTU's and have a difference of Up to a $1,000.00. Also is the pump size to plumbing pipe size correct? A pool with 2.5 " plumbing vs. 2" plumbing will cost at least $2,000.00 more. The point of all this is there really is no way to compare two different pool companies with two different designs and specifications. If you want to get a apples to apples comparison you need to have a pool plan and specifications for all the pool companies to bid from. That way there will be no discrepancies of your bids.
There are a lot more questions than we have time to go over here but these are a few more. Is the filter size to pool size right? What type of filter is going to be installed? How is the water going to be circulated? What type of heater? What size of heater? How many and what kind of pool lights are to be installed?
The answers to these questions vary greatly depending on the size of pool and location of the pool equipment vs. pool (distance). But you can ask the pool builder to give you this information so you can compare builders easier.
Also request that you want all electrical runs to the equipment and wiring to the equipment included. Many times this is not included and by the time you find out it is to late. This is a way for builders to present a lower price up front. If you are having a gas heater installed find out if the gas is included? By code it will need a gas line ran from the gas meter to the pool heater. If this is not included you will be in for an even bigger surprise. If we had a nickle for every time people went with one of our competitors and called us back to tell us our bid was actually lower than what they paid, well we would have a bunch of nickles!

Probably the biggest misconception is that all pools are built the same. We are of course talking about gunite swimming pools because that is what we build. If you were in the market for lets say a new Ford truck. You could go to three different Ford dealers and get the exact same options on all three and really compare prices. With pools we are not affiliated with any of our competitors and as far as I know they are not affiliated with any other competitors here either. We do not build our pool the same as any of our competitors. There are differences in everything from steel placement and spacing to plumbing pipe material and size of pipes. There is a huge range in levels of quality of swimming pool equipment. There are too many different things to list here. So as our comparison goes you are actually looking at Fords, Chevy's, Toyota's, Honda's and Dodges. I don't know about you but when I buy a car I look at the same car and get accurate comparisons. This is what we are trying to accomplish here.
One of the other huge mistakes is when people don't factor in the warranty and service. Many of the smaller companies do not offer warranty repairs. You have to go through the equipment manufacturer to get repairs done. Sometimes smaller companies can't get back to do the repairs you need done just because they do not have the personnel to do it. This can make a small problem turn into a big one.
These are a few of the unknown factors that homeowners don't think of. There are many more, such as insurance and knowledge of proper construction. At Atlantis we know what it takes to build the highest quality pool and that is our goal. Good luck to all future pool buyer's. Please call us if you need any assistance.
Topics:
all
,
Choosing a Pool Builder in Tulsa? What you Need to