Posts By Month:

---
Blog | How much does a pool cost?
---
Swimming pool installation costs vary depending on four main factors;
Number 1. What is the pool construction type? Gunite, Fiberglass or In-ground liner?
Number 2. How large is the pool? Such as how long and how wide?
Number 3. How deep is the pool going to be? Diving? Volleyball? Combination?
Number 4. What amenities do you want to add to your pool? Spa? Slide? Salt Water?
Lets look at the the first question. The exact same size pool built in all three methods of construction can vary several thousand dollars. The reason is costs of material and more often costs of labor. If you purchase an inground fiberglass pool lets say. These pools can be installed usually in a couple of weeks. The gunite pool can take four, five or six weeks to build. So there is a lot more costs for labor. The vinyl lined pool can be built in three to four weeks and the material cost is much cheaper. So in order of costs the Gunite pool is usually the most expensive, then the fiberglass, then the liner pool.
The second factor is size. This is where gunite pools have a slight advantage. There is no limit to the size of a gunite pool! The only limit to the size of a gunite pool is your budget. Look at the picture below. This is the World's largest pool, it was built in Chile. Fiberglass pools are limited by the size that can legally be hauled by a semi truck. That is why you rarely see a fiberglass pool wider than 18'. The liner pools come in pre-sized kits. I suppose you could get a custom size made but it surely would drive the price up. The bottom line on all these pools is the larger the pool the more it is going to cost to install and operate.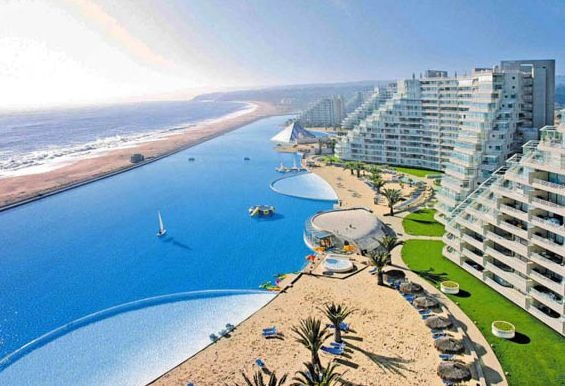 The depth of the swimming pool also has an economic effect on the costs. Especially if you are digging in a rocky area. If you built the exact same pool deep (8'+) vs shallow (6'-) it will cost an average of 12 to 15% more.
Lastly lets look at the amenities. Adding a gunite spa to your pool can add 8-14 thousand dollars. The same goes for adding a fiberglass spa. Depending on the quality I have seen these advertised for $3000.00 up to $15,000.00. Then other items you may want- Slides $1,500.00 to $20,000.00- Fire pits $2,000.00 to $6,000.00-Fireplaces $6,000.00 to $20,000.00-Vanishing edge feature $10,000.00 to $20,000.00-Built in cleaning systems (in-floor) $3,500.00-$8,500.00. As you can see the list can go on forever.
I hope this information is helpful for all potential pool buyers.
Topics:
all