Posts By Month:

---
Blog | How to choose between outdoor fire features and fireplaces
---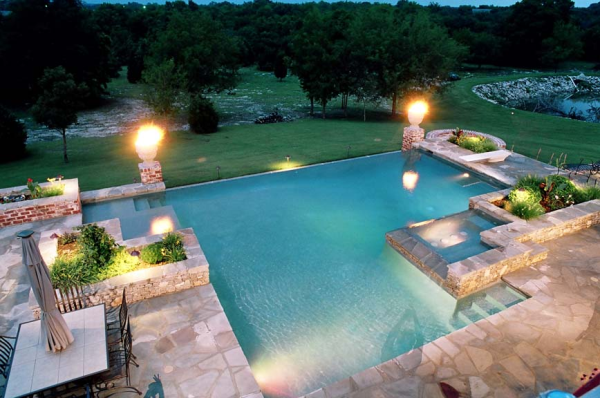 The use of fire features and fireplaces around outdoor living areas has grown over the last few years. Many homeowners are starting to look at the pool area more as an outdoor living area. Fire used as a focal point can be a very dramatic effect, especially at night. So if you want to incorporate fire into your outdoor living then you only need to decide what type of feature you want and where to put it!
The first thing you need to decide is what do you want to spend for this feature? Obviously a fire pit costs less than a fireplace. This is just a fact of size of a fire pit vs. a fireplace. Also a large factor in costs is material used. An all stone fireplace vs. a stucco fireplace will cost more also. Once you decide on the feature you need to decide where you want it. Think of how you will use it. Will you want to put deck chairs around it? Do you want to incorporate a seating wall around part of it to sit on? There are many ways to plan a fire feature. Your pool designer should have some good ideas.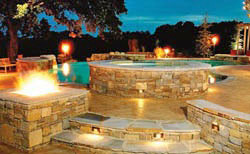 There are also fire features that have water pouring out of them into your pool. An automated fire feature (wireless remote) will cost twice as much as a fire feature that you light with an match. So you need to decide if that is worth and extra $1,500.00 dollars or more to push a button and light it.
Another factor to consider is fuel source. Are you going to light your fire with a bunch of wadded up newspapers or are you going to run a gas line. If you are in a rural area you may not have gas, so you may need to run a propane line to your feature. I only mention this because this can be a large part of the expense to install a fire feature.
So if you want fire in your backyard consider all of the above and get a few quotes. This will help you decide what will work best for your design and budget.
Topics:
all
,
fire pit
,
fire pits
,
fireplace
,
fireplaces
,
outdoor fire feature