Posts By Month:

---
Blog | Knowing the different types of pool builders and how to spot them!
---
As you can tell from our previous blogs we don't think all pool builders are created equal! There are really three types of pool builders, I'm not talking about the three types of pools (gunite, fiberglass, vinyl liner). But actually three different ways pool builders operate.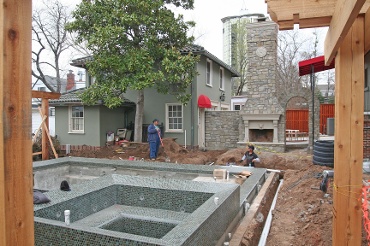 The most common type is the small company that does under $1.5 million in sales. They typically do not have many if any employees and often do not have an office. These builders subcontract almost all the work out to other tradesmen. Some even do as much of the work themselves as they can then sub the rest. This type of operation has many benefits to the pool builder. Such as little or no taxes to worry about and also little or no insurance to pay for. These savings are usually reflected in the estimate to build your pool. In other words they should be cheeper in costs.
The Second type of builder is usually a mid-size type that does between $1.5 million and $3.5 million. This type of builder usually focuses on quality over quantity. They build less pools but tend to do larger projects with more amenities. There focus is not on selling every pool they can. Often this type of builder will refer clients to other builders that may be able to help them better with what they are wanting.
The third type is the largest one. These companies do anywhere from $3.5 million up to $20 million. They live for quantity. They want to sell absolutely every pool customer that walks in the door. These are builders that often do not include everything in there bids. Therefore it is not included in your contract. They almost always have an office/warehouse, trucks, employees and huge overhead to cover. It is hard for these larger type companies to be able to manage their projects effectively. This is due to the large number of projects they have going at one time.
So if you are still with me. You may be wondering what all this means? What it boils down to is that if you happen to call all three of these companies and they all "bid" a similar pool project. You will have quite a range in estimates. Typically the first builder I mentioned is the lowest price the second one is the highest and the third is probably in between.
So hopefully this will help you sort out how your various bids stack up.
Topics:
all
,
Pool builders
,
pool contractors
,
types of pool builders