Posts By Month:

---
Blog | Swimming pool interiors, what is best?
---
Swimming pool construction has continued to evolve over the last several years. Even as early fifteen years ago most pool builders just offered plaster pool interiors. The biggest choice back then may have been whether you wanted white or grey plaster. Over the last few years many pool builders have started promoting pebble finishes. Also you may here about all tiled pools.
These are the three most common pool interiors for a gunite swimming pool. They are also priced in the same order as above with plaster being the most econmical and pebble being a little more expensive. With all tiled pools costing the most. These different pool interiors all have advantages and disadvantages. Lets look at plaster pools first.
You may be wondering what plaster actually is. Plaster is a blend of white portland cement and crushed white marble. If a colored plaster is desired plaster dye is added. This material is mixed with water in a mortar mixer and then applied to the pool shell pneumatically with a pump that pushes it through a hose. As it is sprayed on the shell it is troweled by hand. Pool plaster is troweled as smooth as possible. There are no perfectly plastered pools. Some imperfections are normal. A plastered pool when properly maintained chemically may last up to 20 years. If chemicals balance is not maintained properly your plaster may not last 10 years. So proper balance of your pool water is very important.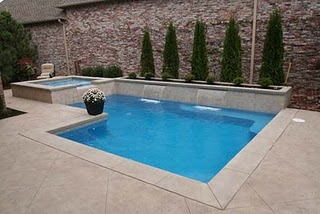 Pebble pool finishes have actually been around for 30 years. Our company pebbled pools around 15 years ago. Pebble pool interiors are applied similary as plaster pools. With pebble pools you have a wide choice of colors and pebble sizes. We recommend smaller size pebbles over the larger ones. This is due to the comfort level of the small pebbles over the larger ones. As you spend more time in your pool your the skin on the bottom of your feet softens and this can cause discomfort when walking on pebbles. The plus side of pebble finishes is it last a long time and is more forgiving when water chemistry gets out of balance. Pebble finishes can last 30 years plus.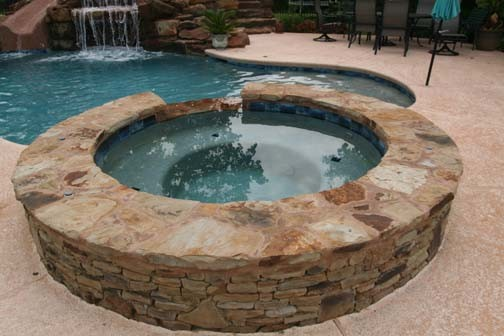 The last pool finish is the best but it is also the most expensive. All tiled pools when properly done will last a lifetime. There are many examples of pools and fountains in Italy and Greece that were tiled hundreds of years ago. Many still look great. All tiled pools are very smooth. There is no smoother finish than an all tiled pool interior.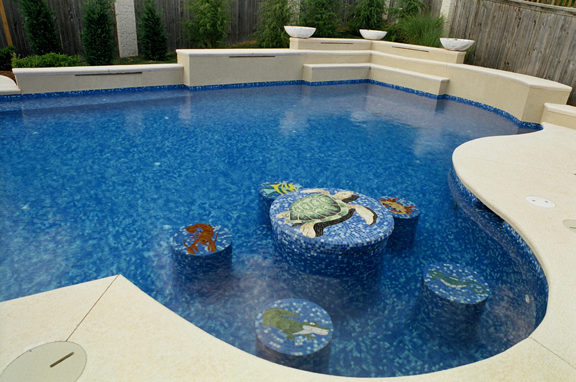 So when you decide to purchase a pool or renovate your existing pool ask your pool building professional what they think about these different interiors.
Topics:
all
,
all tiled pool
,
Pebble
,
pebble finish
,
Plaster
,
plaster finish
,
Tiled pool