Posts By Month:

---
Blog | Swimming Pool Skimmers. What are they? How do they work.
---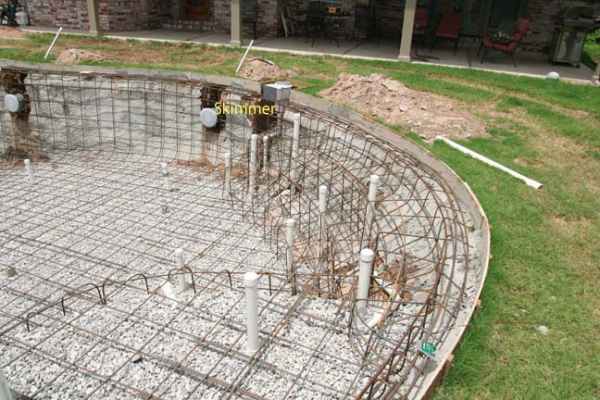 As pictured above (in this construction photo) skimmers are located at the water line of the swimming pool. The water level is usually in the middle of the skimmer. Floating debris goes through the opening into the skimmer. Inside the throat of the skimmer is a weir door. It is sort of a flapper that lets leaves and debris go into the skimmer but doesn't let it get back out.
Inside the skimmer is a basket that catches the debris.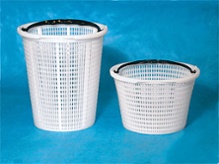 This basket needs to be cleaned when it gets full. Depending on the location of the swimming pool and the location of trees, landscaping, etc. and the time of year. It may need to be emptied once a week or once or twice a day.
Many pools have only one skimmer. It is usually determined by the size of the pools surface area. If a pool has a surface area of 600 sq. ft. then one skimmer may be suficent. Over that you may want to have two skimmers installed. We have built huge pools that have had five skimmers. So your pool builder should be able to guide you on quantity.
The location of the skimmer(s) is really more important than the quantity. In our area the prevailing winds blow normaly from the Southwest to the Northeast. So we install our skimmer in the Northeast area of the swimming pool. If we use a second skimmer it is installed in the Southwest end of the pool.

The best skimmer to use is a Venturi Skimmer.
Picture courtesy of Waterway Plastics.
As it says under the picture. "The skimmer pulls as much water as the pump. It does this by sending water from the return side of the filtration through the skimmer creating a venturi. This means as the water flows through the skimmer it creates a vacuum. It literally sucks more water through by forcing the water over the suction port.
Topics:
all
,
Pool Skimmers
,
Skimmer
,
Skimmer location
,
Skimmers