Posts By Month:

---
Blog | Things you need to know about pool renovation
---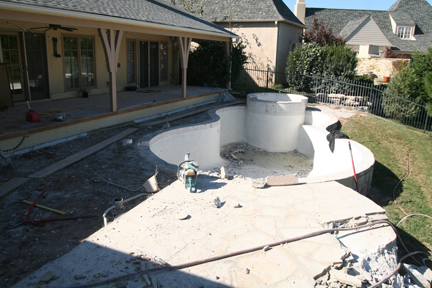 When you decide it is time for a face lift for your swimming pool. This short list will come in handy in making a good use of your money to renovate your pool.
First decide what is needed. One smart thing to do when getting estimates for pool renovations is to think in terms of what is needed vs. what is desired. Unless you are wealthy and have unlimited income most people have a budget of what they intend to spend on their renovation. You may need new water line tile and new interior pool finish (plaster, Pebble, etc.). You may want a covered outdoor cook center too. So prioritize starting with a written list going from number one need to number x wants. This list may be 3 or 4 items it may be 15 or 20 items. Our company has done renovations from the low thousands of dollars to over hundreds of thousands of dollars. So make your list.
Next after you have made your list you should call a few pool companies (three would be plenty) and set up appointments for them to come look at your pool. In deciding on who you want to bid on your project. You should ask your friends or neighbors who they used for their renovation. Find out how it went. How big a mess did they make? How long did it take? Some times good pool builders are not good pool renovators. Also check the local BBB for each companies ratings.
At this meeting you should give them a copy of your list and tell them the deciding factor as to how much of the list is actually done depends on the total costs. Be sure to ask for an itemized breakdown of each part. If you need new plaster, deck resurface, tile replaced and want to add a fire pit, stone seat walls, water feature and spa. Make sure they come back with separate numbers for each phase.
OK you made your list, you got your estimates. Now what? Now you need to choose a pool company. Many times the "bids" are just a gage to see how companies compare. By having the itemized list of costs you can get a better idea of actual cost factors. That being said in looking at bids the lowest price may not be the best choice. You need to weigh all the factors. Believe it or not sometimes the gut feeling is a good indicator. It may be you feel like you can work better with brand "B" than brand "A" or "C". Remember the people you choose will be working with you for a few days, weeks or maybe months. So have a good comfort level with them.
One other factor. Do they do the work? You may think this is a silly question but it is not. Many companies just hire sub-contractors to do the work. This may be alright if they are good subs. It may not be alright if they are not. Also make sure they have workers compensation insurance and public liability insurance. These should be requested by you and mailed to you from the insurance companies.
Good luck and if you live in our service area and need a renovation call us (918-641-1100) for a free estimate.
Topics:
all
,
Pebble
,
pool plaster
,
pool remodel
,
Pool renovation
,
Tile