Posts By Month:

---
Blog | To Winterize your Pool or to not Winterize your Pool?
---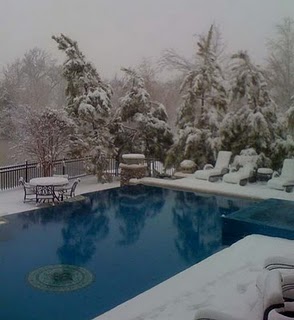 Winterizing a swimming pool varies greatly depending on what part of the country in which you live. As you go north, say Kansas City and further, most pools are winterized. As you go south towards Dallas and further, most pools are not winterized. In Tulsa, our history shows......
it is about a 50/50 split. For our purposes we will focus on the Tulsa Metro area.
Of course, winterizing your pool during the coldest part of the year has many benefits. First, when a pool is winterized properly you have very little chance of potential freeze damage. You also save on electricity by not having to run the pumps. To winterize the pool, the equipment is drained, the water level is lowered usually between 8" to 12" from the normal level, and the lines are cleared of water using an air compressor. Then the pool is covered. Sometimes people winterize without covering their pool. This can sometimes lead to problems with stains forming on the floor of the pool. If you winterize your pool we recommend that you cover it also.
If you decide to leave your pool open, here are a few things to consider. It is recommended that your pool has a built in freeze sensor for each pump on your pool. Many of the pools we build have three or more pumps. What the freeze sensor does if your pool equipment is off and the temperature drops below freezing the pumps will come on and circulate the water. As long as water is flowing through the system it will not freeze. Without a freeze sensor it is recommended that you run your pool 24/7 from December through March. The cost of installing freeze sensors will pay for themselves in electrical savings probably during the first winter. Many of the pools built in the last 15 to 20 years have many different features and levels that make it either very difficult or impossible to cover. My personal pool is one of the latter. I have posted a picture of it on this blog. Showing it during the winter with snow. I must say I am one of those people that prefers to look at moving water vs. a covered pool during the winter.
Topics:
all
,
To Winterize your Pool or to not Winterize your Po