Posts By Month:

---
Blog | What is the best type of filter for your pool?
---
The best filter for your swimming pool depends on what your expectations are and how much work you are willing to do.
First lets look at the different pool filters available and how they perform. There are three types of filters available. They are the sand filter, cartridge filter and diatomaceous earth filter or commonly know as the D.E. filter.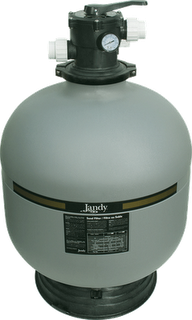 The sand filter is the most common type of filter found on swimming pools. It is usually installed because of the ease of use. Not because it is the best at filtering water. It actually is the worst at filtering particles from your pool water. The standard way that filtration is calculated is by measuring particles in microns. With the higher the number being less effective. Sand filters usually filter down to around 30 microns. So if crystal clear water is your goal then you probably do not want a sand filter. The plus for installing a sand filter is that all you do is backwash the filter for a couple of minutes 2-3 times a month. So it has very low maintenance.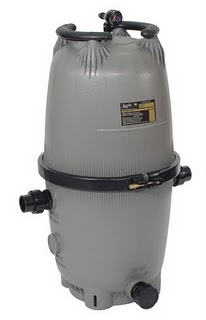 Cartridge filters as far as filtration are better than sand filters. They filter out particles down to around 8 microns. This type of filter uses grids that catch the dirt as opposed to sand. They hold more dirt than sand filters so they need cleaned less often usually 3-4 times a season. The down side to these types of filters is that they need to be disassembled to be cleaned. If you will notice in the above picture there are no valves on the filter. So cleaning can take up to an hour. Also the grids need replaced every few years and that can be expensive.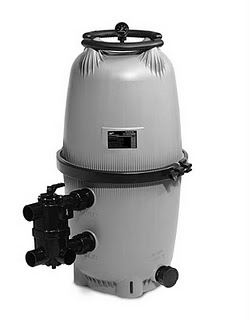 Our last filter is the D.E. filter. This filter is the best as far as filtration. It filters out particles down to about 3 microns. It is similar to the sand filter in that it also needs backwashed to be cleaned. The difference is that you add D.E. powder back through the pool system to "recharge" the filter. This D.E. powder is diatomaceous earth it is basically remains of fossilized diatoms. This material enters the filter and coats the grids inside. This powder catches the dirt and lets the clean water be returned to the swimming pool.
So now you can decide what level of filtration you want for your pool and how much time you are willing to spend on it.
Topics:
all
,
cartridge filter
,
d.e. filter
,
pool filter
,
pool filtration
,
sand filter