Posts By Month:

---
Blog | What you should expect during pool construction.
---
Having a swimming pool constructed in your back yard can be a little stressful. That is why we want to tell you what to expect during construction. We are going to talk about some of the things you will experience and some things you may experience.
First if you have a fenced in yard a portion of it will need to be removed for access unless you have a very large gate. Make sure it is understood who is taking the fence down and who is putting it back up. A professional pool company will always take it down and put it back up unless you request otherwise.
The next thing is the excavation of the pool. This can make your yard look like a bomb blew up in it. But as they say you have to break a few eggs to make an omelet. Often pool builders haul the dirt to the street with a small loader. This has the effect of making a portion of your yard look like a old country road. Also most builders will stock pile some of the soil for later grading. So now you may end up with a small mountain of dirt in your yard.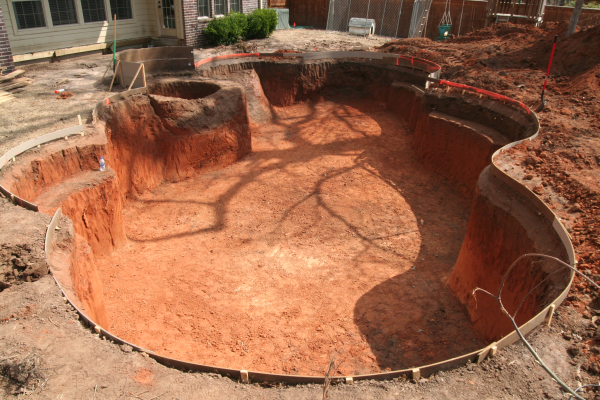 After excavation many builders install a gravel drainage bed in the bottom of the excavated pool. This material is usualy shuttled from the street to the pool by, you guessed it, a loader. So more wearing down the country road.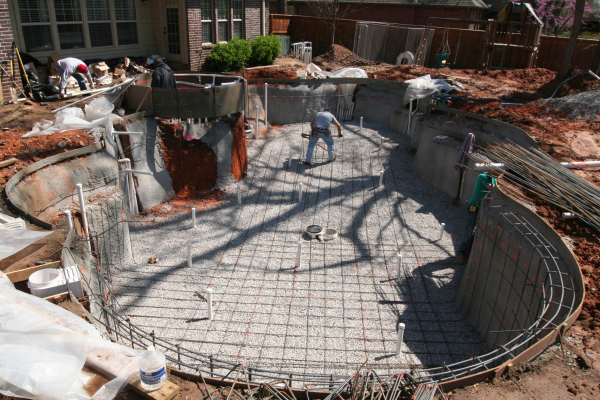 At this time the pool is either plumbed or stub plumbed and then the steel shell is installed. Now the pool is ready for the gunite to be shot into the pool. This material is usually pumped from the street through a hose. This process is what makes the structure of the pool. It can be a little messy and there will be some material left around the pool. This left over material will be cleaned up before grading.
The next phase is usually installing the tile. This is one of the few processes that does not make a huge mess. It actually is one of the phases where people start seeing a pool in their yard instead of a hole.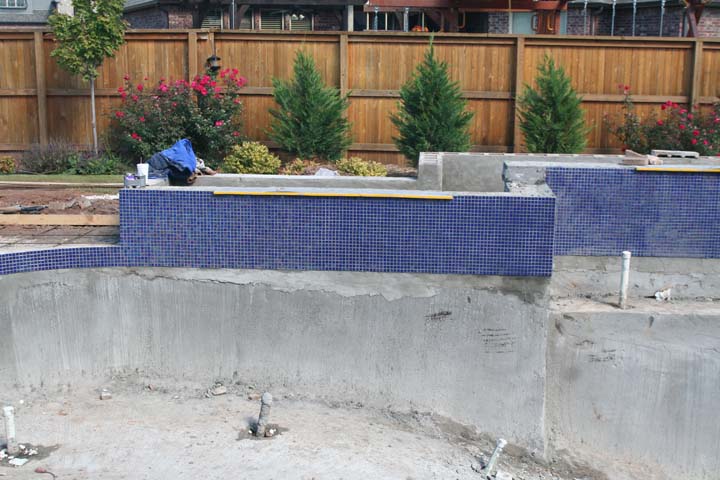 The deck layout and set up is the next phase. At this time the excess dirt is spread out to level around the pool. Now the yard is starting to look more like a yard again. After grading the deck forms are laid to match the plan that you and your builder agreed upon. It is normal at this time for changes to be made. It is always eaiser to see how the deck looks in real life than on paper. Just make sure your builder and you agree on the quantity of decking. If it is over you should expect to pay more for the overage. if it is under you should expect to receive a credit. The mess factor on this phase is not huge. You will have a few places where there will be overspill. Not to worry this will be cleaned up at final grading.
There are a few other things left to do such as setting the pool equipment and plastering the pool interior. These process usually don't make much of a mess. So we are going to talk about things you should not expect during your construction.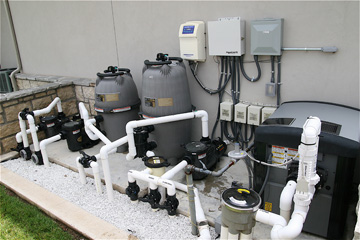 You should not see paper lunch bags, burger wrappers, cups, cans, bottles, cigarette packs, or any other trash laying around. Your builder should treat your yard like it is his own. Would you drink a can of soda in your back yard and throw the can on the ground when you finish? No. Neither should your builder or his crew!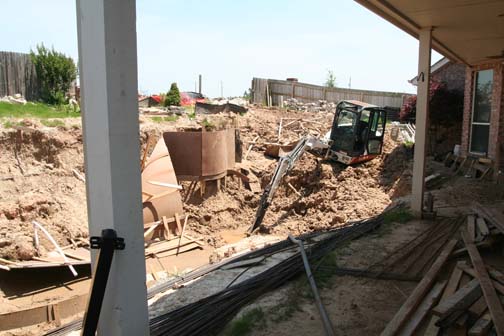 This is not what you want to see! So hire a professional.
Topics:
all
,
construction debris
,
Pool construction mess
,
Pool debris