Posts By Month:

---
Blog | Expectations of a Pool Buyer
---
Many times homeowners researching different pool companies, have a difficult time determining which one is best. More often than not the criteria they use in their decision making process is not the best. Unfortunately they can be faced with an unpleasant pool building experience. Usually the questions asked of pool builders are not the most important ones. I know as many of you read this you will be thinking "What does this guy know that I don't know about buying a pool". Well here are the facts. I am a professional pool builder; this is my life's work. I am one of only 300 Certified Pool Builders (CBP) in the World. I have sold and built over 900 pools. But I have not sold or not built many more than that. Being the owner of a 30 year old pool company I know how this process evolves. I also want to mention to those of you that are in my market area (Tulsa, OK.). This blog is read all over the world, it is read as far away as Australia, Russia, Germany, China and England to name a few countries. So I am not doing this to help me, I am doing this to help you. It is a sad fact that many times peoples egos get in their way of heeding advice from an expert. So if you are interested in learning about the psychology of the pool buying decision and how it is made then please read on.
Unfortunately people often look at buying a pool like buying a car. That would be great if all pool companies built a top quality pool and had great service after the pool was built. It would be great if all companies even built them right. But that is not the case. The fact is pools require many different people to do many different phases and are built by many different standards. So unlike a car that is built on an assembly line, pools are hand made in your backyard. All pools are not the same as is all service after the sale is not the same. A good pool company will put your best interest first. In the market we build pools in there are only a couple of these types of builders out of over 60 companies that build pools.
Many of you that are reading this are Doctors, Lawyers, Accountants, Engineers, Business Owners, and Building Contractors etc. I could spend the next year researching any one of these professions and not know 1/50th of what you know. Let alone determine which one is best at what you do! Herein lies the problem. Homeowners think that they can talk to different pool companies and learn what it takes to build a pool. They ask about rebar, plumbing, gunite shell thickness, pump size, etc. These may be good questions but overall they are the wrong ones. Does it matter if a pool builder puts his rebar on 8" centers if he has a 3 year or 5 year shell warranty vs. a lifetime warranty? This is why the history of the companies warranty service is important. More so than steel placement.
At the start of the process to find a pool builder is when the first mistake is usually made. When homeowners call pool builders they say "we are getting bids to build a pool in our backyard and would like to get a bid from your company". For it to be a "bid" situation you need to have a detailed plan of the pool with specifications. This plan should address elevations, dimensions, depths, location of equipment, location of utilities, access to site, location of existing plants and trees etc. The specifications should have details about plumbing size and hydraulics, Steel size and placement, decking material with PSI required, location of pool, layout plan for pool, pool light quantity and placement, skimmer placement and quantity, type and quality of equipment etc. Without a plan and specifications to "bid" on you have just turned it into a price comparison issue. You are in reality looking at different pool designs with different specifications. How many times in your life have you bought the best deal (price) to find out later that it was not such a good deal after all? There is an old adage that you need to know that says it all, "If you can't afford to do it right then how can you afford to fix it".
The better way for you the homeowner to get "bids" is to have specifications and a plan that is given to all the pool contractors you are considering. Everything for the project is spelled out, there are no surprises this way. Many companies such as ours will design a pool with specifications for a fee. Then you can bid it out. Most of these companies will credit back the design fee if you end up hiring them for the project. Can you see the difference? There are other ways to acquire a plan. You can hire a professional Landscape architect or landscape designer. For very detailed specification you will need to hire a swimming pool builder. The investment for these plans is very minimal compared to the overall costs associated with building a pool. Probably between 3 and 7 % of the pool cost. Many people see this has a waste of time and money. But it can save you many times over the amount spent for the design. The following picture is a 3D concept of a pool......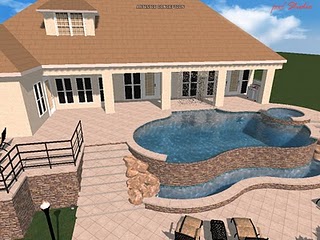 But it is not a pool plan. Even a 2D picture of this same plan with dimensions is not a plan. There is not enough information for 2, 3 or 4 pool builders to bid this pool. What you glean from these different builders is a bunch of different opinions of how they would build it. Many times when it is a "bid" situation they are trying to leave off as much as possible and cut as many corners as possible to be "competitive". That can cost you much more money later.
Another factor when getting bids for a pool is having a detailed list of what is included in the scope of work. Often there are portions of a project that you would assume are included that you find out are not. Such as electrical run to the pool equipment and wiring of the equipment. Also gas run and hook-up of the pool heater. You would be very surprised to find out that a large percentage of pool builders do not include electrical hook up of the pool equipment. Would you go out and buy a new car without it having a battery? So why would you buy a pool that can't run either? Who is doing the drainage around the pool? Sprinkler repairs? Who is responsible for damage done to your property or your neighbors property?
When you are interviewing potential pool builders also ask about how many projects like yours have they done and how many projects they do a year. If they are building 4 or 5 pools a year they may not know everything they should. If they are building 60 or 80 pools a year they may not have the supervision needed for your pool to turn out like you planned. A builder that builds between 25 and 45 pools a year would be a better choice than the other two. They build enough pools to be proficient at it and give your project the attention it needs.
Here are a few things to look for when looking at pool companies web sites on the Internet. Many have very slick web sites but no content to speak of. If they state they are the "Number 1" pool builder or the "Premiere" pool builder that usually means the opposite. If they lack basic information, such as how long they have been in business. You should find out why.
The bottom line is there are not even two pool builders that are building their pools the same without specifications to go by. Proper specifications from a professional pool builder are not an opinion they are facts learned over the years. Professional pool builders continually strive to improve the way they construct swimming pools. Remember, If you think it is expensive to hire a professional just wait 'till you hire an amateur! I wish all of you good luck in your quest to find a great pool builder!
Topics:
all
,
Expectations of a Pool Buyer